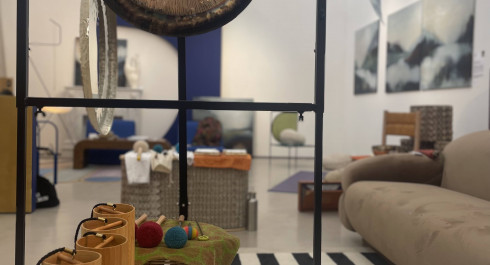 20.10.2023
Gong Bath and Art
Dive in an ocean of sounds and let yourself be carried away.
The Gong is a holistic, powerful vibrating instrument: it produces waves of sound that one can physically feel in the room and in the body, giving the impression of being immersed in a sound bath. The richness of the sound, full of harmonics, enables deep relaxation of the mind and emotional harmonisation.
Complementary instruments are used to enrich this sound journey.
Lay down, close your eyes and listen.
30 minutes of Guided meditation: connecting with art pieces
We will start the session by making contact with the art that is surrounding us in the gallery, influencing us consciously or unconsciously during our journey. What is it telling us? Where does it take us?
A guided meditation to open our imagination and enrich our sound journey.
| Date | Hours |
| --- | --- |
| | 18H30 - 20H00 |
| | 10H00 - 11H30 |
| | |
| --- | --- |
| All public, Tout public | 35 € |
Content provided by Echo.lu – Content non-binding and subject to change.

To advertise your event (taking place in the capital) in our calendar, register all the information on Echo.lu and display it on our agenda.