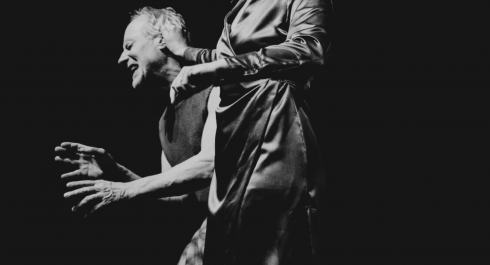 12.03.2024
Stahltier. Ein Exorzismus.
Stahltier. Ein Exorzismus.
1935. Ein Filmvorführraum im Reichspropagandaministerium. Das Kino ist leer bis auf zwei Menschen: Leni Riefenstahl und Joseph Goebbels, der Reichspropagandaminister und uneingeschränkter Herr über die Filmwirtschaft des Reiches.
Goebbels und Riefenstahl sind zusammengekommen, um sich Willy Otto Zielkes Das Stahltier anzuschauen, einen Industrie-film, in Auftrag gegeben zum 100. Jahrestag der Reichsbahn, ein düsteres, expressionistisch-avantgardistisches Meisterwerk. Goebbels hatte ihn verboten, nun will er ihn mit Riefenstahl zusammen sehen. Während der Film läuft, läuft der wahre Film zwischen den beiden ab, ein Close-up in die Psyche und Psychosen der Macht, ein hautnaher Tanz und Kampf, zwei Raubtiere, die sich umkreisen.
Riefenstahl will Zielke vernichten, will sich ihn wie bei einem Exorzismus aus dem Leib treiben. Zielke war das eigentliche Genie hinter ihren Filmen, alle Innovationen der Kameraführung gingen auf ihn zurück. Sie will, dass alles ihr zugeschrieben wird. Vordergründig gibt sie vor, sich für ihn einzusetzen, das Verbot aufheben zu wollen. So beginnt auch das Treffen, doch beide spielen ein doppelbödiges und falsches Spiel. Riefenstahl geht einen Pakt mit dem Teufel ein, und er bestimmt den Preis, will einen Film mit ihr drehen, mit nur zwei Darstellern, sie und ihm...
Stahltier. Ein Exorzismus ist ein Auftragswerk von Regisseur Frank Hoffmann an den bedeutenden deutschen Dramatiker Albert Ostermaier, dessen Stück Aufstand er bereits für die Ruhrfestspiele und das TNL inszeniert hat. Geschrieben hat Ostermaier das Stück für zwei ganz besondere Darsteller: Jacqueline Macaulay und Wolfram Koch. Ein brisantes Stück, ein explosives Thema, eine hochkarätige Besetzung.
| Date | Hours |
| --- | --- |
| | 20H00 - 21H30 |
| | 20H00 - 21H30 |
| | 20H00 - 21H30 |
| | 20H00 - 21H30 |
| | 20H00 - 21H30 |
| | 17H00 - 18H30 |
| | |
| --- | --- |
| adultes | 25 € |
| jeunes | 8 € |
| Kulturpass | 1.5 € |
Content provided by Echo.lu – Content non-binding and subject to change.

To advertise your event (taking place in the capital) in our calendar, register all the information on Echo.lu and display it on our agenda.