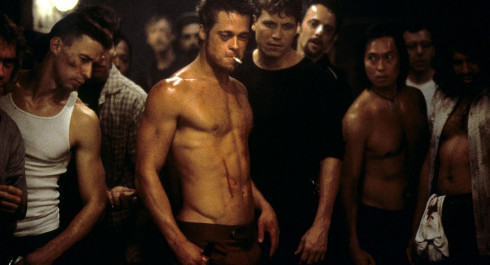 09.12.2023
Fight Club (The Many Faces of Mr. Pitt)
Fight Club (The Many Faces of Mr. Pitt)
Fight Club
USA 1999 | David Fincher | vostFR+DE | 139' | 35mm | Cast : Brad Pitt, Edward Norton, Helena Bonham Carter | D'après : le roman de Chuck Palahniuk
► Nomination Best Sound Editing, Oscars 2000
Un employé de bureau insomniaque et un fabriquant de savons forment un club de combat clandestin qui devient beaucoup plus que ça.
« Le voile de l'ambiguïté est levé : des deux côtés, c'est l'impasse. Et le cinéaste se tient là, au milieu, porte-voix d'une génération pratiquant l'auto-scarification. La caméra virtuose au poing. Et la rage au ventre à l'idée de ne savoir où aller. » (LeNouveauCinema.com)
« An outrageous mixture of brilliant technique, puerile philosophizing, trenchant satire and sensory overload, Fight Club is the most incendiary movie to come out of Hollywood in a long time. It's a mess, but one worth fighting about. » (Newsweek)
« It is working American Beauty-Susan Faludi territory, that illiberal, impious, inarticulate fringe that threatens the smug American center with an anger that cannot explain itself, can act out its frustrations only in inexplicable violence. » (TIME Magazine)
Saturday 09.12.2023
20H45 - 23H15
| | |
| --- | --- |
| Tarif plein | 3.7 € |
| Tarif réduit | 2.4 € |
| Kulturpass | 1.5 € |
Content provided by Echo.lu – Content non-binding and subject to change.

To advertise your event (taking place in the capital) in our calendar, register all the information on Echo.lu and display it on our agenda.