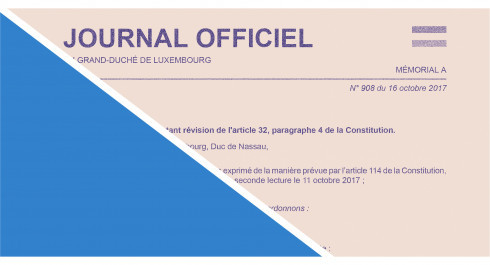 Fënnef Joer "état de crise"
Fënnef Joer "état de crise"
Säit der Verfassungsrevisioun vum 13. Oktober 2017 huet d'Lëtzebuerger Regierung d'Méiglechkeet, net nëmmen am Fall vun enger internationaler Kris, mee och als Äntwert op schlëmm intern Geforen den "état de crise" auszeruffen. Dësen erlaabt et hier, fir eng limitéiert Zäit legislativ Pouvoiren auszeüben.
D'Revisioun vun 2017 huet am Virfeld fir kontrovers Diskussioune gesuergt. Esou gouf z. B. gefaart, dass eng Regierung deen neien Art. 32(4) vun der Verfassung kéint benotzen, fir no engem Terrorattentat dauerhaft Grondfräiheeten anzeschränken. Am Fréijoer 2020 koum den "état de crise" wärend der COVID-19-Pandemie fir t'éischt Kéier zum Asaz – dës Kéier ouni gréisser Kontrovers.
Fënnef Joer no der Aféierung vum "état de crise" a senger haiteger Form an zwee Joer no senger éischter Uwendung schéngt et méiglech, en éischte Bilan ze maachen. Huet d'Coronakris de Notze vun dësem aussergewéinlechen Instrument bewisen? Oder riskéiert den Art. 32(4) op Dauer, d'Demokratie a Fro ze stellen?
Un der Table ronde huelen deel:
Sam Tanson (Justizministerin)
Robert Biever (fréiere Procureur général d'Etat)
Luc Heuschling (Professer fir Verfassungsrecht op der uni.lu)
Et moderéiert de Michel Erpelding (Chercheur am Beräich Vëlkerrecht op der uni.lu).
Tuesday 31.05.2022
19H00 - 21H00
Content provided by Echo.lu – Content non-binding and subject to change.

To advertise your event (taking place in the capital) in our calendar, register all the information on Echo.lu and display it on our agenda.