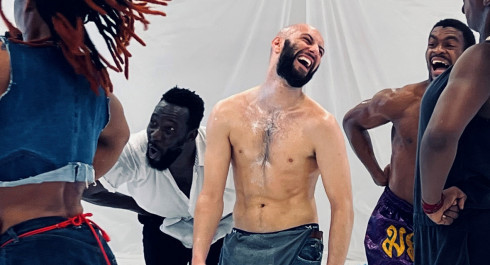 23.11.2023
Faso Danse Théâtre / Serge Aimé Coulibaly
Faso Danse Théâtre / Serge Aimé Coulibaly
FR Le chorégraphe bourkinabé Serge Aimé Coulibaly revient au Grand Théâtre avec sa nouvelle création jubilatoire C LA VIE. Pour C LA VIE, Serge Aimé Coulibaly se plonge dans les événements traditionnels qui accompagnent les cycles de la vie. D'une part, la tradition occidentale du carnaval, d'autre part, la tradition ouest-africaine du Wara de la région de Senoufo. En explorant les différentes formes et évolutions de ces anciens rituels de transgression et de leurs danses, il développe un nouveau rituel de célébration pour notre monde contemporain. C LA VIE est un spectacle virtuose pour sept danseurs et danseuses, une chanteuse et un percussionniste. Un débordement d'énergie qui a en soi quelque chose de la folie libératrice du carnaval et de la puissance créatrice qui balaie allègrement tous les obstacles et les hiérarchies établies.

EN Burkina Faso born choreographer Serge Aimé Coulibaly creates explosive dance from urgent subjects for his Belgian-based Faso Danse Théâtre. In 2019, Kalakuta Republik looked at the fight of Afrobeat father Fela Kuti against corruption. More recently, with live jazz score, Wakatt was a reflection on the fear that fills the contemporary world. At the core of the choreographer's expressive language is the idea that every movement has an opposite response. For C LA VIE, inspired by political thinker Ece Temelkuran's book Together: A Manifesto Against the Heartless World, he explores what makes life worth living and searches for fresh rituals of celebration for the post-pandemic world. Multiinstrumentalist Ivan Talbot joins the company onstage for this joyful fusion of Western carnival and ceremonial trance of the African Wara tradition.

DE C LA VIE, das neue Stück von Serge Aimé Coulibaly, ist eine abenteuerliche und zugleich kritische Feier des Lebens, ein Energieausbruch, der alles Menschliche vereint. Der burkinische Choreograf bezieht sich darin zum einen auf die westliche Tradition des Karnevals, zum anderen auf die westafrikanische des Wara. Auf Basis dieser alten Rituale und ihrer Tänze, die den Kreislauf des Lebens begleiten, entwickelt er eine faszinierende Zeremonie für unsere heutige Welt, mit Versatzstücken einer zeitgenössischen choreografischen Sprache und einer detaillierten, präzisen Ausführung. Die musikalische Gestaltung des Abends übernimmt der Schlagzeugvirtuose und Multi-Instrumentalist Ivan Talbot. Die Percussion bildet bei Coulibaly stets das Herzstück des Tanzes – schließlich war er selbst früher Schlagzeuger.
| Date | Hours |
| --- | --- |
| | 20H00 - 21H30 |
| | 20H00 - 21H30 |
Content provided by Echo.lu – Content non-binding and subject to change.

To advertise your event (taking place in the capital) in our calendar, register all the information on Echo.lu and display it on our agenda.