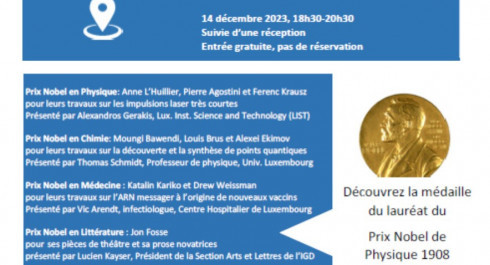 14.12.2023
Evening of Nobel Prize winners
Evening of Nobel Prize winners
Découvrez les Prix Nobel 2023 présentés par des spécialistes actifs au Luxembourg.
Découvrez la médaille du lauréat du Prix Nobel de Physique 1908 Gabriel Lippmann, né à Bonnevoie
Prix Nobel en Physique: Anne L'Huillier, Pierre Agostini et Ferenc Krausz pour leurs travaux sur les impulsions laser très courtes. Présenté par Alexandros Gerakis, Lux. Inst. Science and Technology (LIST)
Prix Nobel en Chimie: Moungi Bawendi, Louis Brus et Alexei Ekimov pour leurs travaux sur la découverte et la synthèse de points quantiques. Présenté par Thomas Schmidt, Professeur de physique, Univ. Luxembourg
Prix Nobel en Médecine : Katalin Kariko et Drew Weissman pour leurs travaux sur l'ARN messager à l'origine de nouveaux vaccins. Présenté par Vic Arendt, infectiologue, Centre Hospitalier de Luxembourg
Prix Nobel en Littérature : Jon Fosse pour ses pièces de théâtre et sa prose novatrices. Présenté par Lucien Kayser, Président de la Section Arts et Lettres de l'IGD
Prix Nobel en Economie : Claudia Goldin pour ses travaux sur la place des femmes dans le marché du travail. Présenté par Aline Müller, Lux. Inst. Socio-Economic Research (LISER)
Prix Nobel de la Paix : Narges Mohammadi pour sa lutte contre l'oppression des femmes en Iran. Présenté par Aida Nazari, entrepreneur
Thursday 14.12.2023
18H30 - 20H30
Content provided by Echo.lu – Content non-binding and subject to change.

To advertise your event (taking place in the capital) in our calendar, register all the information on Echo.lu and display it on our agenda.