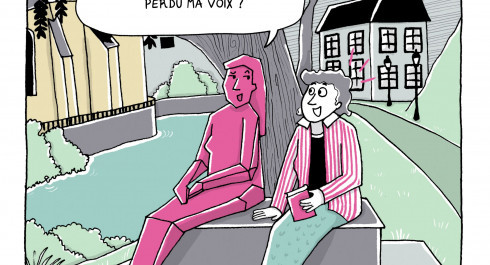 20.04.2023
Elles nous racontent
Le projet "Faire société en Bande Dessinée" s'est attaché, pendant plusieurs mois, à récolter les témoignages de femmes nées ailleurs et dont le parcours de vie les a conduites jusqu'au Grand-Duché. De ces récits, sont nées 9 bandes dessinées, écrites et illustrées par Sol Cifuentes et Angie Cornnejo, scénariste et illustratrice argentines, au cours d'une résidence à neimënster. Pour aborder d'une autre façon la migration, avec ses enjeux et ses challenges, Sol Cifuentes et Angie Cornejo ont tiré de ces récits des bouts de parcours et d'expériences. Elles y ont puisé la trame de courtes histoires pour nous parler de ces femmes qui, par choix ou forcées, ont, un jour, quitté une terre natale pour vivre sur un nouveau territoire, au sein d'une autre culture. Cette exposition réunit des dessins retraçant le processus de création des ces oeuvres et offre une introduction à la technique de la bande dessinée. L'installation se déploie sur des panneaux de grand format, présentant les récits inspirés par ces héroïnes du quotidien. Des documents papier, des photos, une installation sonore et un quiz complètent l'exposition.
Content provided by Echo.lu – Content non-binding and subject to change.

To advertise your event (taking place in the capital) in our calendar, register all the information on Echo.lu and display it on our agenda.