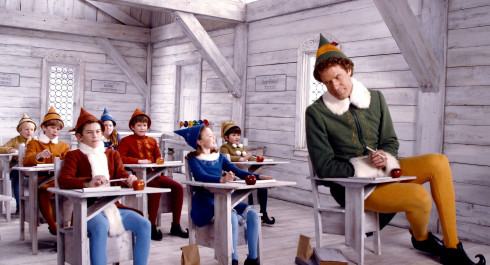 10.12.2023
Elfe (Cinema Paradiso)
à partir de 7 ans

Elfe
Elf USA 2003 | Jon Favreau | verson française | 97 minutes | digital | Avec : Will Ferrell, Artie Lange, James Caan, Zooey Deschanel
Buddy, un être humain, est élevé par les lutins du Père Noël depuis sa plus tendre enfance. Lorsqu'il atteint l'âge et la taille adulte, ces derniers s'aperçoivent que cette différence physique commence à poser quelques problèmes : anormalement grand pour ce lieu légendaire, l'homme provoque en effet un joli scandale au Pôle Nord ! Renvoyé dans son pays d'origine, il se lance à la recherche de son père biologique à New York.
« Comédie fantastique incontournable, Elfe est le film familial idéal à (re)voir pendant les fêtes de Noël. » (CinéSérie.com)
« Ferrell est un sacré rigolo. Il en va de même pour une grande partie de ce divertissement familial plein d'esprit qui, jusqu'à la fin, lorsqu'il faut réaffirmer le 'véritable esprit de Noël', privilégie allègrement le burlesque à la mélasse. » (Newsweek)
►Ce film est également programmé le vendredi, 15 décembre à 18h30 en version originale.
Sunday 10.12.2023
15H00 - 16H45
| | |
| --- | --- |
| Tarif plein | 3.7 € |
| Tarif réduit | 2.4 € |
| Kulturpass | 1.5 € |
Content provided by Echo.lu – Content non-binding and subject to change.

To advertise your event (taking place in the capital) in our calendar, register all the information on Echo.lu and display it on our agenda.