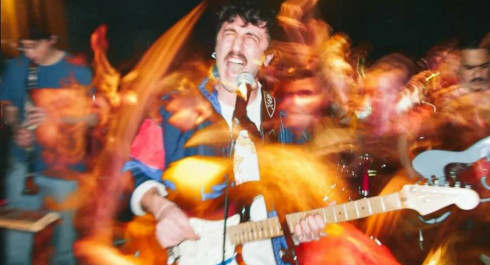 05.12.2023
DURY DAVA - Live at Vantage
DURY DAVA - Live at Vantage
DURY DAVA - Live at Vantage
Dury Dava is a five-piece band from Athens Greece formed in 2016.
Their original music spans across several genres paying tribute to the raw grit of 60's psychedelia and 70's krautrock and fusing elements from the Greco-Turkish musical traditions such as odd rhythms and folk dances with a punk mentality.
In their hometown they are known for their increasingly explosive live shows in unexpected urban venues or mystical summer festivals on remote Greek islands.
Their debut self-titled album was recorded live during several sessions in the second half of 2018 at Hobart Phase studios in Athens and is out in May 2019 via Inner Ear.
Members :
Karolos Berahas – bass keys synth
Giorgis Karras – electric guitar
Dimitris Kouloglou – vocals electric guitar bouzouki
Dimitris Prokos – clarinet synth
Ilias Livieratos – drums percussion
links :
https://spotify.link/IvyVCibniDb
https://www.facebook.com/durydava/
https://www.instagram.com/durydava/
entry :
presale :10 €
Doors :12 €
Tuesday 05.12.2023
21H00 - 23H45
Content provided by Echo.lu – Content non-binding and subject to change.

To advertise your event (taking place in the capital) in our calendar, register all the information on Echo.lu and display it on our agenda.