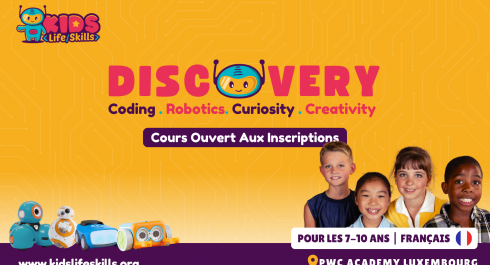 14.01.2024
Discovery | Cours pour les 7-10 ans en Français
Discovery | Cours pour les 7-10 ans en Français
Discovery | Cours pour les 7-10 ans en Français
(10 leçons de 3 heures chacune)
Aucune connaissance préalable n'est requise.
La programmation, la robotique, la curiosité et la créativité se rencontrent dans ce nouveau cours passionnant, conçu pour éveiller la passion de votre enfant pour la technologie.
Aperçu du cours :
- 10 leçons de 3 heures chacune.
- Suscite l'intérêt des enfants pour la technologie grâce à des activités engageantes et amusantes.
- Enseigne les concepts logiques de base de la programmation.
- Fournit une expérience pratique avec de vrais robots pour renforcer les connaissances en programmation.
- Encourage la créativité et inspire la curiosité pour les intérêts technologiques.
- Création de jeux et de projets d'animation avec Scratch.
- Programmation et contrôle de robots (Botley, Dash, Sphero Ball, etc.).
- Développement des compétences de pensée logique.
- La dernière leçon inclut des présentations aux parents, améliorant les compétences en communication.
Important :
- Ce cours est spécifiquement conçu pour les 4-6 ans et sera entièrement en français.
- Un ordinateur portable avec chargeur est requis.
Assurez la place de votre enfant ici - https://neon.ly/m63dw
Quand : 14.01 | 21.01 | 28.01 | 04.02 | 18.02 | 25.02 | 03.03 | 10.03 | 17.03 | 24.03 - de 10h00 à 13h00.
Où : 2 Rue Gerhard Mercator 2182 Luxembourg - PwC Academy
Pour toute information supplémentaire / questions, n'hésitez pas à nous contacter par e-mail : [email protected].
Sunday 14.01.2024
10H00 - 10H00
Content provided by Echo.lu – Content non-binding and subject to change.

To advertise your event (taking place in the capital) in our calendar, register all the information on Echo.lu and display it on our agenda.