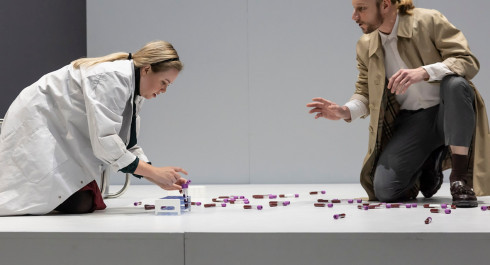 07.02.2024
Die Laborantin
Die Laborantin versetzt uns in eine nahe Zukunft, die rasch Wirklichkeit werden könnte, wenn wir nicht wachsam gegenüber dem wissenschaftlichen Fortschritt und den politischen Veränderungen sind. Ein einfacher Bluttest ermittelt Lebenserwartung und mögliche Krankheiten eines jeden einzelnen und drückt das Ergebnis in einer Zahl aus, mit der auch der soziale Status und der persönliche Handlungsspielraum festgelegt sind. Die Figuren in Ella Roads Debüt gehen jede auf ihre Weise mit der absoluten Kontrolle durch das genetische Profil um.

Die Laborantin Bea lernt auf dem Flur ihrer Klinik den attraktiven, erfolgreichen und hoch bewerteten Aaron kennen, mit dem sie ein scheinbar perfektes Paar bildet. Ihre lukrative Nebenbeschäftigung verschweigt Bea jedoch: Sie fälscht Testergebnisse, um etwa ihrer niedrig bewerteten Freundin, der Aktivistin Char, das Fortkommen zu ermöglichen.

Roads Erfolgsstück fragt nach unserer Fähigkeit, sozialen und politischen Druck auszuhalten, nach unserer Bereitschaft, für das Ideal des makellosen Menschen gesellschaft-liche Spaltung und Diskriminierung hinzunehmen. Wie weit würden wir gehen, um unsere Haut zu retten und einer bestimmten Klasse anzugehören? Nach dem großen Erfolg der letzten Spielzeit zeigen die Théâtres de la Ville eine Wiederaufnahme dieser Koproduktion mit dem Staatstheater Mainz, inszeniert von Fábio Godinho, mit einer deutsch-luxemburgischen Besetzung.
| Date | Hours |
| --- | --- |
| | 20H00 - 22H00 |
| | 20H00 - 22H00 |
| | 20H00 - 22H00 |
| | |
| --- | --- |
| Adultes Cat 1 | 20 € |
| Adultes Cat 2 | 15 € |
| Adultes Cat 3 | 8 € |
| Jeunes | 8 € |
Content provided by Echo.lu – Content non-binding and subject to change.

To advertise your event (taking place in the capital) in our calendar, register all the information on Echo.lu and display it on our agenda.