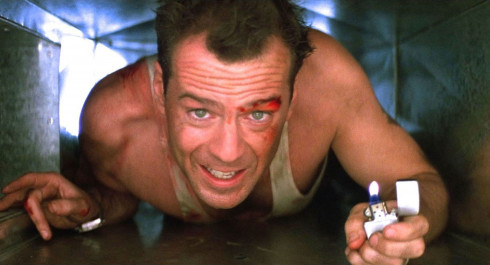 Die Hard (Classics Before Christmas)
Die Hard (Classics Before Christmas)
Die Hard
USA 1988 | vostf+all | 131' | c | De : John McTiernan | Avec : Bruce Willis, Alan Rickman, Alexander Godunov
John McLane, policier de New York, rejoint sa femme dont il est séparé à Los Angeles pour Noël. Espérant une réconciliation, il se rend à la fête organisée par la multinationale où elle travaille. Un commando prend bientôt l'immeuble d'assaut.
« L'une des grandes réussites de Die Hard, c'est naturellement son protagoniste joué par un Bruce Willis au sommet de sa forme. Ce dernier s'abandonne à une attitude grinçante tout bonnement délectable (les cultes "Now I have a machine gun ho-ho-ho" et "Yippee-ki-yay, pauvre con !"), mais son personnage tranche surtout avec les repères fixés par des 'action heroes' indestructibles aux muscles sur-développés qui sévirent durant toute la décennie 80 (Schwarzy et Stallone en tête. » (àVoir-àLire.com)
« Plus que le film d'action ayant révolutionné un genre, Die Hard s'impose comme l'œuvre qui en a post-daté la genèse. Rétroactivement, le 'first action movie'. » (Écran Large)
Content provided by Echo.lu – Content non-binding and subject to change.

To advertise your event (taking place in the capital) in our calendar, register all the information on Echo.lu and display it on our agenda.