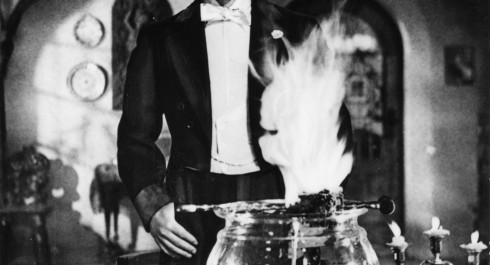 19.12.2023
Die Feuerzangenbowle (Classics Before Christmas)
Die Feuerzangenbowle (Classics Before Christmas)
Die Feuerzangenbowle
The Punch Bowl Allemagne 1944 | Helmut Weiss | vostEN | 96' | 35mm | Cast : Heinz Rühmann, Karin Himboldt, Paul Henckels
Ein distinguierter Schriftsteller kehrt aufgrund einer beschwipsten Wette freiwillig auf die Schulbank zurück und wird als Primaner zum Anstifter übermütiger Pennälerstreiche…
A successful writer, home-schooled in his youth, masquerades as a student at a secondary school to experience all the fun and pranks he missed out on.
« Ich habe da gewisse Wenkelzüge, mit denen man den Lehrstoff angemessen wörzt und angenehm gestaltet. Heute in der Chemie zum Beispiel komme ich an die alkoholische Gärung. Und da bränge ich jedes Jahr - meine Schöler wissen das - eine Literflasche Heidelbeerwein, den ich selbst hergestellt habe, mit in den Chemieunterricht, damit jeder sich von dem Wohlgeschmack des Getränkes überzeuge. Vorsicht! Jeder nur einen wönzigen Schlock, sonst steigt er in den Kopf. » (Chemieprofessor Crey)
« Harmloser, nostalgischer und zündender Klamauk im Schulmilieu, der sich seinerzeit in krassem Gegensatz zur historisch schrecklichen Epoche des Nationalsozialismus und des Zweiten Weltkriegs befand. » (Kino-Zeit.de)
Spezialpreis für die Vorstellung: 7,50 € – mit Ausschank von einem « wönzigen Schlock » Heidelbeerwein während der Vorführung, und Feuerzangenbowle und Lebkuchen nach dem Film.
Special price for this screening: €7,50 – includes a "small sip" of blueberry wine during the screening, as well as 'Feuerzangenbowle' (German punch) and gingerbread after the film.
Tuesday 19.12.2023
18H30 - 20H15
| | |
| --- | --- |
| Tarif unique (avec boisson) | 7.5 € |
| Kulturpass (sans boisson) | 1.5 € |
Content provided by Echo.lu – Content non-binding and subject to change.

To advertise your event (taking place in the capital) in our calendar, register all the information on Echo.lu and display it on our agenda.