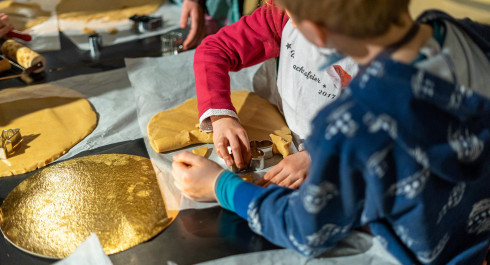 28.12.2023
Den Honger kënnt beim Erzielen
Den Honger kënnt beim Erzielen
Winter edition

Sorry, there's no English version of this text.


Avec leur délicieux mélange d'épices, les recettes de Noël sont les plus parfumées de l'année. Le dessert et les histoires concoctés aux Rotondes pendant cet atelier auront aussi une saveur particulière grâce à un ingrédient secret qu'on ne trouve pas dans une armoire de cuisine. Est-ce une mélodie, une histoire, un parfum ? C'est en mettant la main à la pâte que les participant∙e∙s le découvriront !


Genre: Culinary and storytelling workshop
Age:

From 7 years old
To 9 years old

Locations: Klub & Buvette
Language: In Luxembourgish
Additional information: Find out all about the Chrëschtdeeg an de Rotondes programme here
Price: 40€ (repas de midi inclus)
Programme: 10:00-16:00 + 16:00-16:15 Présentation pour les parents et accompagnateur∙trice∙s
Thursday 28.12.2023
10H00 - 10H00
| | |
| --- | --- |
| Den Honger kënnt beim Erzielen | 40 € |
Content provided by Echo.lu – Content non-binding and subject to change.

To advertise your event (taking place in the capital) in our calendar, register all the information on Echo.lu and display it on our agenda.