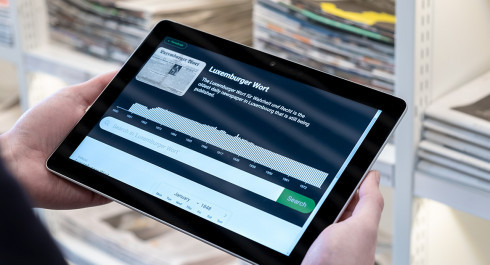 10.06.2023
Den Dag vum eluxemburgensia.lu
Den Dag vum eluxemburgensia.lu
Den Dag vum eluxemburgensia.lu ass eng eenzegaarteg Geleeënheet, fir déi verschidden Aspekter vun der Digitalisatioun an dem elektroneschen Archivage vu Lëtzebuerger Dokumenter kennen ze léieren.
D'Participante wäerten net just déi gratis online Ressourcen entdecken, mee si ginn och méi iwwer d'Technologien, déi d'BnL asetzt, gewuer a léieren déi vill Projeten un deenen d'Bibliothéik schafft kennen, wéi z. Bsp. d'Notze vun der kënschtlecher Intelligenz.
An den Ateliere kënne Participanten och hier Iddien an Andréck deelen, iwwer hir Erfarunge mat eluxemburgensia.lu schwätzen an nei Entwécklunge fir de Portal proposéieren.
D'Seancen si gratis, mee et muss ee sech am Viraus umellen. Et kann ee sech esou wuel fir eng eenzel ewéi och fir alleguerten oder e puer spezifesch Seancen umellen.
Programm
10:00 - 11:00 | eluxemburgensia.lu stellt sech vir (Presentatioun)
Bei dëser Aféierungsronn gitt Dir alles gewuer, wat een iwwert der BnL hir digitaliséiert Kollektioune wësse muss: wéi eng Dokumenter sinn online accessibel? Wat ass alles an der Maach a wéi gëtt aus engem historeschen Dokument eng gratis online Ressource?
11:00 - 12:00 | Technike fir meng Recherche auszebauen (Atelier)
An dësem interaktiven Atelier kritt Dir gewise wéi een den eluxemburgensia.lu am beschten notzt a wéi Dir schnell an effizient Äert gesichten Dokument fannt.
Den Atelier eegent sech esou wuel fir Ufänger ewéi och fir avancéiert Utilisateuren, déi sech nach weiderbilde wëllen.
13:00 - 14:00 | E Bléck op d'Uwendung vun digitaliséierten Dokumenter (Temoignagen)
Unhand vun 3 Temoignagë vun Experten a Persounen, déi den eluxemburgensia.lu an hirem Beruff extensiv notzen, entdeckt Dir wéi de Portal Iech am Alldag weiderhëllefe kann.
14:00 - 15:00 | Kënschtlech Intelligenz (KI) am Déngscht vun der Digitalisatioun (Presentatioun)
An dëser Seance kritt dir vun eisem KI-Expert erkläert, wéi d'BnL d'KI-Technologien am Kader vun der Digitalisatioun benotzt a wéi och Dir dovu profitéiere kënnt.
15:00 - 16:00 | Wat soll eluxemburgensia.lu mir an Zukunft bidden? (Atelier)
An dësem Ofschlossatelier hutt Dir d'Méiglechkeet Är Iddien, Andréck a Wënsch fir d'Verbesserung an d'Ergänzung vum eluxemburgensia.lu mat eisen Experten ze deelen.
Saturday 10.06.2023
10H00 - 10H00
Content provided by Echo.lu – Content non-binding and subject to change.

To advertise your event (taking place in the capital) in our calendar, register all the information on Echo.lu and display it on our agenda.