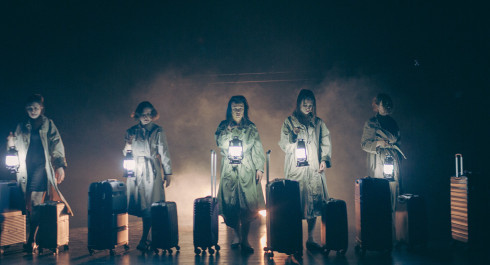 Comment faire front lorsque la guerre surgit ? C'est la question impossible que pose le metteur en scène Vlad Troitskyi, fondateur du Théâtre Dakh à Kyiv, dans la pièce Danse macabre, qui revient aux Théâtres de la Ville après un premier accueil en juillet 2022.

À travers leurs témoignages et ceux de femmes ordinaires, six comédiennes et chan-teuses ukrainiennes nous livrent des histoires poignantes qui racontent la douleur intime de vivre le conflit au quotidien, la façon dont il a transformé leur rapport à la vie et à leur famille. En mêlant à ces récits leurs nouvelles compositions musicales, ainsi que des mélodies traditionnelles ukrainiennes, les Dakh Daughters et le metteur en scène Vlad Troitskyi exposent avec force toute l'horreur et la violence du conflit qui se déroule en Ukraine.

Réfugiée à Vire, où la compagnie de théâtre ukrainienne est accueillie par le CDN de Normandie depuis mars 2022, l'équipe artistique a conçu ce spectacle comme un acte de résistance, une performance d'« Art Front » pour continuer à témoigner ici de ce qui se passe là-bas.

La venue du Théâtre Dakh et des Dakh Daughters, dont le travail important participe à la lutte du peuple ukrainien face à l'agression russe, est réalisée en collaboration avec le CDN du NEST Thionville, qui accueille de son côté les Dakh Daughters dans la dernière création de la metteuse en scène Lucie Berelowitsch, directrice du Préau CDN de Normandie-Vire Les Géants de la Montagne, d'après Pirandello.
| Date | Hours |
| --- | --- |
| | 20H00 - 21H30 |
| | 17H00 - 18H30 |
Content provided by Echo.lu – Content non-binding and subject to change.

To advertise your event (taking place in the capital) in our calendar, register all the information on Echo.lu and display it on our agenda.