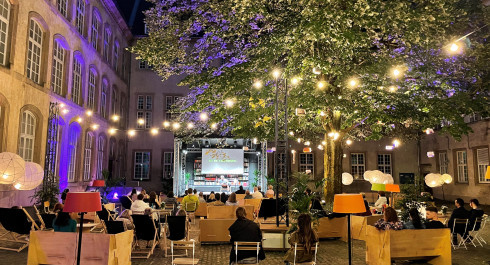 Roland Meyer | d'stad liest
Roland Meyer | d'stad liest
Soirée littéraire avec Roland Meyer
Genre : Lecture du livre " Glous - Vu Reptiloiden an ale wäisse Männer"
Langue : LU
Résumé : Et sinn d'70er Joren an engem Duerf am Zentrum vum Land. Jiddereen huet seng Plaz. Déi schonn ëmmer am Duerf gewunnt hunn, bestëmmen, wat richteg a wat falsch ass, déi aner, déi nei, déi friem mussen sech upassen oder se hunn et schwéier. Esou war et nach ëmmer an esou soll et och ëmmer bleiwen. Mee elo op eemol mierken d'Protagonisten, datt eppes an d'Rutsche kënnt, datt grouss Ännerungen op déi kleng Leit duerkommen, an datt et ni méi esou wäert sinn, wéi et eemol war. De Pascal ass esou ee Friemen, hien ass do ënnen aus dem Heim an en ass ganz anescht wéi mir. Hien akzeptéiert d'Reegelen net, déi zanter éiwegen Zäiten d'Duerf regéieren, seng brutal Direktheet stellt op eemol alles a Fro an d'Hëtzt vum Summer léist d'Gefiller opkachen.De Roland Meyer hëlt eis a sengem bis elo perséinlechste Buch mat an eng Zäit, déi de Grondsteen geluecht huet, fir déi Welt, an dier mir elo liewen. Villes ass deemools verschwonnen a verluere gaang, mee d'Glous liicht ëmmer nach.
Veuillez trouver toutes les informations actuelles ici : https://www.vdl.lu/fr/visiter/loisirs-et-divertissement/fetes-foires-et-evenements/summer-der-stad/dstad-liest
Content provided by Echo.lu – Content non-binding and subject to change.

To advertise your event (taking place in the capital) in our calendar, register all the information on Echo.lu and display it on our agenda.