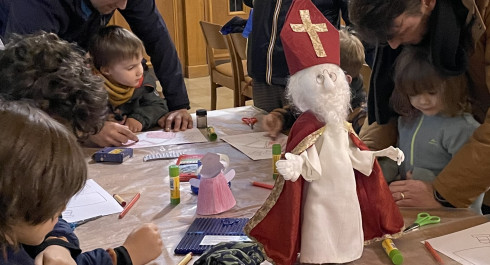 29.09.2023
D'Kleesercherstraditioun fréier an haut, fir Grouss a Kleng
D'Kleesercherstraditioun fréier an haut, fir Grouss a Kleng
De Kleeschen ass immens beléift. D'Traditioun ronderëm säin Éierendag gëtt a ville Familljen héisch gehalen, woubäi all Generatioun en e bëssen anescht feiert. Hie verschenkt nawell gären Orangen an déck Nëss. Hien dréit esou een héijen Hutt an ee laange Baart. Firwat eigentlech? Wat maachen déi Kanner an der Biidchen nieft him op de Statuen?
Mat engem Bicherdësch fir Kanner an Erwuessener, lieweg verzielte Geschichten am Lieseck, enger klenger Ausstellung iwwer seng Verwuerzlung an der Lëtzebuerger Konscht a Kultur an engem Quiz ginn op spilleresch Manéier seng Hierkonft a seng Legenden fir Grouss a Kleng erläutert.
De ganzen Dag iwwer ass och d'Kleeserchersmarionette mam Carine Schmit-Kayser op Besuch a weist de Kanner, wat et mat der Traditioun vum Schong eraussetzen op sech huet.
Méi Informatiounen: https://ewb.lu/event/dkleesercherstraditioun-freier-an-haut-fir-grouss-a-kleng/
neimënster - Centre Culturel de Rencontre Abbaye de Neumünster
28 rue Münster
L-2160 LUXEMBOURG

Friday 29.09.2023
10H00 - 18H00
Content provided by Echo.lu – Content non-binding and subject to change.

To advertise your event (taking place in the capital) in our calendar, register all the information on Echo.lu and display it on our agenda.