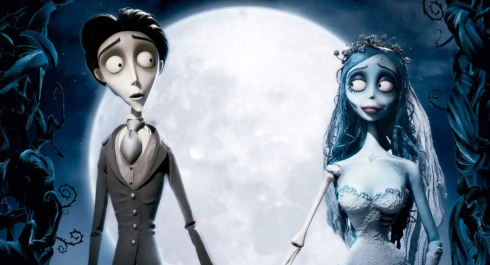 Corpse Bride (Cinema Paradiso)
Corpse Bride (Cinema Paradiso)
à partir de 8 ans
Mon premier film en VO
Corpse Bride
USA 2005 | version originale avec sous-titres français | 76 minutes | couleurs | Film d'animation de : Tim Burton & Mike Johnson | Avec : Johnny Depp, Helena Bonham Carter, Emily Watson
Au XIXe siècle, dans un petit village d'Europe de l'est, Victor atterrit précipitamment dans le royaume des morts après avoir épousé sans le vouloir le cadavre d'une mystérieuse mariée. Pendant son voyage, sa future femme Victoria l'attend désespérément dans le monde des vivants. Bien que la vie au royaume des morts s'avère beaucoup plus colorée et joyeuse que sa véritable existence, Victor réalise que rien au monde, pas même la mort ne pourra l'éloigner de son véritable amour.
« Une œuvre créative qui s'inscrit totalement dans l'œuvre du réalisateur. Fantastique, c'est un spectacle de toute beauté qui aborde la mort avec humour et poésie. » (Benshi)
« Burton a mis dix ans, dit-on, à ciseler cette petite merveille. Pas étonnant quand on voit la richesse du travail accompli. (...) L'action est un enchantement funèbre, d'autant plus séduisant que la grâce ici va toujours de pair avec la brisure, la maladresse, le déséquilibre. » (Télérama)
Content provided by Echo.lu – Content non-binding and subject to change.

To advertise your event (taking place in the capital) in our calendar, register all the information on Echo.lu and display it on our agenda.