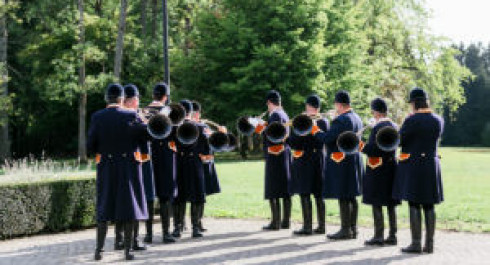 Concert itinérant des trompes de chasse
Concert itinérant des trompes de chasse
L'art musical des sonneurs de trompe, une technique instrumentale liée au chant, à la maîtrise du souffle, au vibrato, à la résonance des lieux et à la convivialité » a été inscrit en décembre 2020 sur la Liste représentative du patrimoine culturel immatériel de l'humanité (Unesco).
L'art musical des sonneurs de trompe est né au XVIIIe siècle à la Cour royale française. Depuis lors, cet art est devenu une tradition vivante dans nos régions
Dans le cadre des « Rendez-vous aux jardins » le patrimoine mondial immatériel le plus récent du Luxembourg passe à la rencontre du patrimoine mondial « Luxembourg, vieux quartiers et fortifications », bien inscrit en 1994 au registre du patrimoine mondial.
Le concert itinérant (15.00-17.30 heures) traverse la zone UNESCO ainsi que les parcs publics historiques de la ville.
Grand drapeau Pétrusse
Parc Edmond Klein – étang
Parc de la Villa Vauban
Parc Amélie
Kinnekswiss / 6-Bänke-Plaz
Parc Pescatore, plateforme ascenseur avec vue sur Pfaffenthal et le MUDAM
Horaire
5 juin 2022 15.00-17.30 heures
Lieu
Boulevard F.D. Roosevelt (fausse-braie Beck-Jost)- Ascenseur Pfaffenthal, parc
Producteur/porteur du projet
Les Trompes de Chasse Saint Hubert de Luxembourg Asbl
42 rue de Bettembourg
L-5811 Fentange
Contact
Wagner, Guy
guy.wag@outlook.com
+ 352 691 160 314
Sunday 05.06.2022
15H00 - 17H30
Content provided by Echo.lu – Content non-binding and subject to change.

To advertise your event (taking place in the capital) in our calendar, register all the information on Echo.lu and display it on our agenda.