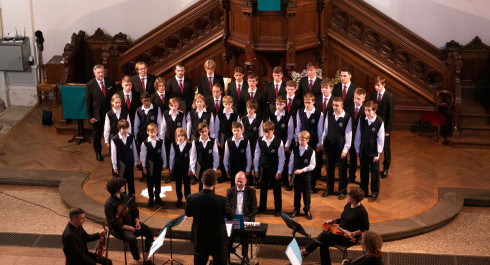 30.09.2023
Concert du Chœur de garçons
Concert du Chœur de garçons
Die "Wuppertaler Kurrende", ein renommierter Knabenchor aus Deutschland, wird vom 30. September bis 7. Oktober eine Konzertreise durch Frankreich und Luxemburg geben und ihr Repertoire an geistlicher Chormusik vom Barock bis zur Moderne präsentieren. Der Chor besteht aus ca. 40 Stimmen von Jungen und Männern ab 9 Jahren. Am 30. September findet in der Kathedrale Notre-Dame in Luxemburg ein Konzert statt. Unter der musikalischen Leitung von Lukas Baumann erklingen Werke namhafter Komponisten wie Heinrich Schütz, Felix Mendelssohn Bartholdy und Knut Nystedt. Der talentierte Organist Jens-Peter Enk wird auf der historischen Orgel der Kirche Zwischenspiele spielen. Der Eintritt zu diesem Konzert ist frei.
Content provided by Echo.lu – Content non-binding and subject to change.

To advertise your event (taking place in the capital) in our calendar, register all the information on Echo.lu and display it on our agenda.