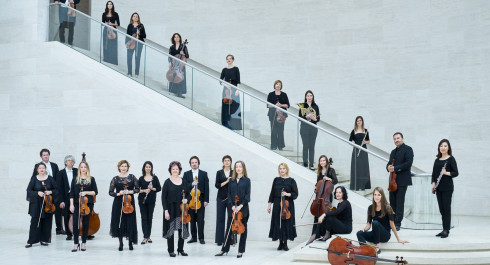 11.06.2023
Concert des lauréats du Conservatoire avec l'Orchestre de Chambre du Luxembourg
Concert des lauréats du Conservatoire avec l'Orchestre de Chambre du Luxembourg
Organisateur: CVL en collaboration avec l'OCL
Les Lauréats du Conservatoire de la Ville de Luxembourg seront à l'honneur pour cette soirée. Ils auront l'opportunité de se produire en soliste avec l'Orchestre de Chambre du Luxembourg, une expérience enrichissante pour ces jeunes talents issus des différents départements du Conservatoire. Cet évènement incontournable dans la programmation pédagogique et musicale du Conservatoire est l'occasion de célébrer et d'encourager le mérite de ces jeunes musiciens et musiciennes.
L'Orchestre de Chambre du Luxembourg est financièrement soutenu par le Ministère de la Culture du Luxembourg et par la Ville de Luxembourg. Il est également financièrement soutenu par le Ministère de l'Education nationale, de l'Enfance et de la Jeunesse pour l'accueil sur ce projet de Philippe Neumann, stagiaire trompettiste en son sein. Il est membre de la fédération de l'Alliance Musicale.
Renseignement et Vente:
Entrée gratuite avec billet (La vente n'a pas encore commencé!)
Tél.: (+352) 47 08 95-1
www.luxembourgticket.lu
Sunday 11.06.2023
18H00 - 19H00
Content provided by Echo.lu – Content non-binding and subject to change.

To advertise your event (taking place in the capital) in our calendar, register all the information on Echo.lu and display it on our agenda.