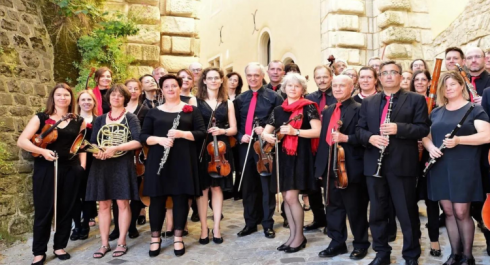 03.12.2023
Concert des Lauréats avec l'Orchestre Estro Armonico
Concert des Lauréats avec l'Orchestre Estro Armonico
Dimanche, le 03 décembre 2023 à 19h
Auditorium du Conservatoire
Organisateur: CVL
Ce concert des lauréats mettra en valeur cinq jeunes musiciens talentueux du Conservatoire de la Ville de Luxembourg qui se produiront en solistes, accompagnés par l'Ensemble Estro Armonico sous la direction de Carlo Jans.
Scheuren Elisabeth, piano
W.A. Mozart, Concerto La Maj, KV 488 1er mouvement
Rhein Annalisa, piano
W.A. Mozart, Concerto La Maj, KV 414 1er mouvement
Penzo Emma, piano
W.A. Mozart, Concerto en Ré min, KV 466 1er mouvement
Serra Pol, chant
W.A. Mozart, "Ja nun lass das Schicksal wüten", extrait de Zaïde
W.A. Mozart, "In quegli anni", extrait de Nozze di Figaro
Vlamynck Jérôme, basson
A. Vivaldi, Concerto en La min, RV 4984
Renseignements et vente:
Entrée gratuite avec billet
Tél.: (+352) 47 08 95-1
Sunday 03.12.2023
19H00 - 21H00
Content provided by Echo.lu – Content non-binding and subject to change.

To advertise your event (taking place in the capital) in our calendar, register all the information on Echo.lu and display it on our agenda.