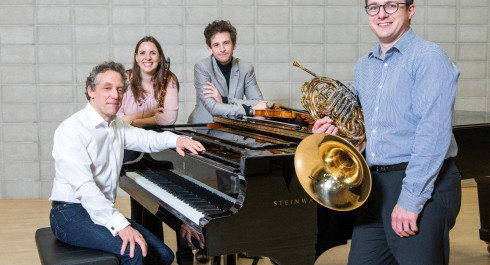 06.12.2023
Concert Actart: Pocket Orchestra
Concert Actart: Pocket Orchestra
Mercredi, le 06 décembre 2023 à 19h
Salle polyvalente du Conservatoire
Organisateur: CVL
WEBER Simone, clarinette
BAUMBERGER Grégoire, piano
JAUSSAUD Quentin, violon
BRAUN Nora, violoncelle
HALSDORF Léo, cor
Ein Orchester bestehend aus fünf Musikern? Der klangliche Erfindungsreichtum der Romantik macht es möglich! Violine, Cello, Klarinette, Horn und Klavier überraschen mit einem unglaublichen Reichtum an Klangfarben und Volumen—quasi ein Orchester im Taschenformat. Um die Jahrhundertwende zum 20. Jahrhundert schreiben gleich mehrere Komponisten aus ganz Europa in kurzem Zeitraum für diese aussergewöhnliche Besetzung.
An diesem Abend können Sie zwei dieser seltenen Perlen entdecken: eine aus Deutschland, eine aus England. Obwohl sich die beiden Komponisten zu dem Zeitpunkt vermutlich selbst nicht kennen, verbindet sie doch eines: die Bewunderung für den großen Meister Johannes Brahms, die sich in diesen Werken hörbar niederschlägt.
Robert Kahn stammte aus einer jüdischen Kaufmannsfamilie, war einst ein gefeierter Komponist, gefragter Kammermusikpartner und hochrangiger Professor an der königlichen Musikhochschule in Berlin. Der zweite Weltkrieg zwang ihn zur Emigration und liess ihn in Vergessenheit geraten, doch die letzten Jahre erlebt vor allem seine Kammermusik verdienterweise eine Renaissance. Sein Quintett op. 54 ist bislang sehr selten zu hören.
Ralph Vaughan Williams hingegen ist heute als herausragender britischer Symphoniker bekannt. Seine Kammermusikwerke sind jedoch weit weniger bekannt, da manche lange Zeit nicht veröffentlicht waren und von denen viele ebenfalls erst rezent Aufmerksamkeit bekommen: unter anderem sein Quintett in D-Dur.
Programme:
Kahn (1865-1951): Quintett in c-moll Op.54 für Violine, Klarinette, Horn, Violoncello und Klavier
Vaughan Williams (1872-1958): Quintet in D Major for clarinet, horn, violin, cello and piano
Renseignements et vente:
Plein Tarif: 10 €
Tarif jeune / GERO: 5 €
Kulturpass
Tél.: (+352) 47 08 95-1
www.luxembourgticket.lu
Wednesday 06.12.2023
19H00 - 20H30
Content provided by Echo.lu – Content non-binding and subject to change.

To advertise your event (taking place in the capital) in our calendar, register all the information on Echo.lu and display it on our agenda.