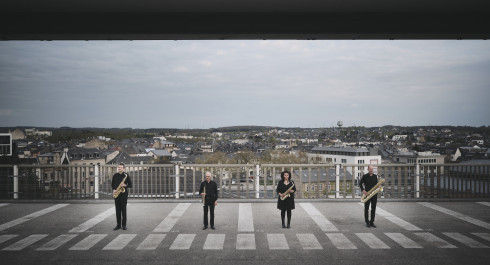 29.11.2023
Concert Actart: Black-White-Gold
Concert Actart: Black-White-Gold
Mercredi, le 29 novembre 2023 à 19h
Salle polyvalente du Conservatoire
Organisateur: CVL
SEALY Leana, saxophone alto
GOETHALS Guy, saxophone soprano
SCHNEIDER Roland, saxophone baryton
ORIGER Paul, saxophone ténor
PETROV Peter, piano
Pour ce concert inédit, le jeu homogène du quatuor de saxophones va se rallier aux harmonies étendues du piano, afin de créer une expérience sonore riche en couleurs. Le programme très varié traverse les époques du classique au contemporain, tout en incorporant des éléments de flamenco et de jazz.
Programme:
Avec des oeuvres de Aperāne, Boumans, DeBoor, Iturralde, Laßmann, Yasuhide
Renseignements et vente:
Plein Tarif: 10 €
Tarif jeune / GERO: 5 €
Kulturpass
Tél.: (+352) 47 08 95-1
www.luxembourgticket.lu
Wednesday 29.11.2023
19H00 - 20H30
Content provided by Echo.lu – Content non-binding and subject to change.

To advertise your event (taking place in the capital) in our calendar, register all the information on Echo.lu and display it on our agenda.