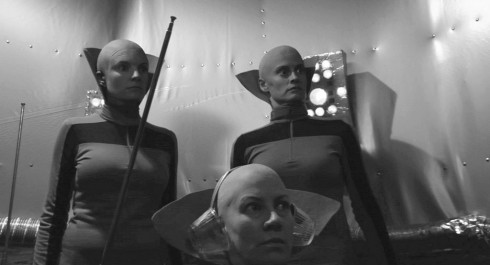 Codependent Lesbian Space Alien Seeks Same
Codependent Lesbian Space Alien Seeks Same
queer loox: The queer-feminist film series in Luxembourg

Codependent Lesbian Space Alien Seeks Same tracks the adventures, misadventures and experiences of three aliens from the planet Zots, sent down to Earth on a mission to rid themselves of romantic emotions, which are considered toxic to their planet's atmosphere. Two of the aliens, Zylar and Barr, fall into an unfortunate romance with each other but Zoinx, the third, meets Jane, an Earthling of mild manners who lives an uneventful life and works in a stationery store. Unaware that the sudden object of her affection is an alien, Jane falls hard for Zoinx. The feeling is mutual.

Meanwhile, two undercover government agents are following Jane in order to find the spaceship and cover up the existence of the aliens. Their bizarre, comical espionage is another of the film's odd couplings in this original mash-up of lo-fi New York City romantic comedy and a sci-fi B-movie spoof.


Organizer / Collaboration: Organized by queer loox a.s.b.l.
Age: From 16 years old
Location: Plateforme
Language: In English | German subtitles
Additional information: Dir. Madeleine Olnek | 2011 | Sci-fi comedy (76') | USA
Links:
Content provided by Echo.lu – Content non-binding and subject to change.

To advertise your event (taking place in the capital) in our calendar, register all the information on Echo.lu and display it on our agenda.