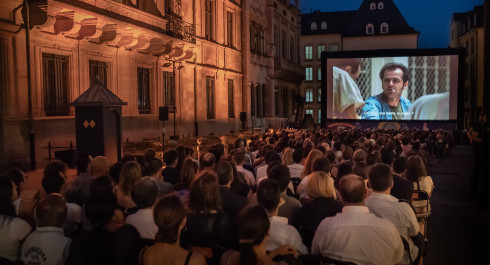 CITY OPEN AIR CINEMA @ Palais
From Friday 22 July to Saturday 31 July | every day at 21:30
Free entry
In case of bad weather, the screenings are maintained. Rain ponchos will be available.
CITY OPEN AIR CINEMA @ Palais
Following the great popular success of the last years, the City Open Air Cinema, presented by the Cinémathèque de la Ville de Luxembourg, will set up once again in the forecourt of the Grand Ducal Palace, in the very heart of the city. A cinema in the moonlight, which will be ʺlarger than lifeʺ: an enormous screen, more than 500 seats and a convivial atmosphere for starry nights full of emotions and cinematographic thrills.
The programme is diversified, entertaining and for all ages, offering classic and more contemporary films, as well as must-see and cult movies which vibrate in tune with the magic of the 7th art in the open sky. A beautiful selection of films that will present more stars than the sky can count.
We are looking forward to seeing you…right under the stars!
| Date | Hours |
| --- | --- |
| Friday 22/07/2022 | 21H30 - 23H30 |
| Saturday 23/07/2022 | 21H30 - 23H30 |
| Sunday 24/07/2022 | 21H30 - 23H30 |
| Monday 25/07/2022 | 21H30 - 23H30 |
| Tuesday 26/07/2022 | 21H30 - 23H30 |
| Wednesday 27/07/2022 | 21H30 - 23H30 |
| Thursday 28/07/2022 | 21H30 - 23H30 |
| Friday 29/07/2022 | 21H30 - 23H30 |
| Saturday 30/07/2022 | 21H30 - 23H30 |