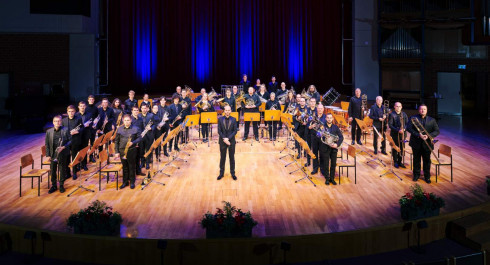 13.12.2023
Christmas Brass 2023
Mercredi, le 13 décembre 2023 à 19h
Auditorium du Conservatoire
Organisateur: CVL
"Christmas Brass" s'est rapidement inscrit lors des dernières années comme l'un des rendez-vous annuels majeurs pour tous les amateurs de musique de cuivre au sein du Conservatoire de la Ville de Luxembourg.
Un événement créé afin de permettre aux élèves du conservatoire d'exprimer leur talent et le fruit de leur travail acharné lors de la première moitié de l'année scolaire, Christmas Brass est également une occasion pour les élèves, ainsi que leurs professeurs, anciens et actuels de se retrouver juste avant la période de Noël.
Cette année, la première partie du concert sera assuré par la Banda – l'ensemble junior de cuivres – dirigé par Pavel Nakhimovich alors que la deuxième partie verra le Brass Band du Conservatoire se produire sous la direction de Philippe Schwartz.
Au programme, non-seulement le traditionnel répertoire de musique de Noël, mais également des pièces maîtresses et originales du répertoire de musique pour Brass Band.
Venez-vous laisser enchanter et partager l'esprit de Noël avec les musiciens du Conservatoire de la Ville de Luxembourg!
Renseignements et vente:
Entrée libre sans billet
Tél.: (+352) 47 08 95-1
Wednesday 13.12.2023
19H00 - 22H00
Content provided by Echo.lu – Content non-binding and subject to change.

To advertise your event (taking place in the capital) in our calendar, register all the information on Echo.lu and display it on our agenda.