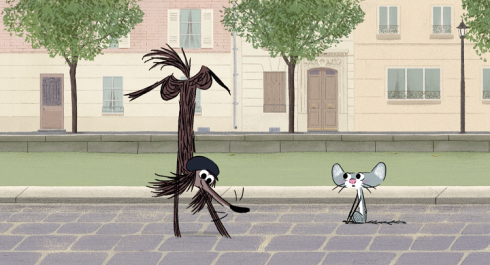 Chien Pourri, la vie à Paris (Cinema Paradiso)
Chien Pourri, la vie à Paris (Cinema Paradiso)
à partir de 4 ans
Chien Pourri, la vie à Paris
Belgique, Espagne 2019 | version française | 60 minutes | couleurs | Programme de courts-métrages d'animation de Davy Durand avec la participation de Vincent Patar et Stéphane Aubier,| D'après la série de romans écrits par Carlos Gutman, illustrés par Marc Boutavant
Il était une fois un chien parisien, naïf et passionné appelé Chien Pourri. Avec Chaplapla, son fidèle compagnon de gouttière, Chien Pourri arpente les rues de Paris la truffe au vent. Peu importe les catastrophes qu'il provoque, Chien Pourri retombe toujours sur ses pattes ! Tant et si bien que les autres chiens commencent à trouver ça louche…
La folle aventure de Chien Pourri et ses amis pour faire découvrir la poésie de Paris aux tout-petits !
Les bonnes raisons de voir le film selon benshi.fr :
1. Pour l'univers loufoque et décalé !
2. Pour un Paris croqué avec délice et malice
3. Pour Chien Pourri, héros unique en son genre, à la fois naïf, idiot, généreux et très attendrissant !
4. Pour une galerie de personnages hilarante et haute en couleur
Content provided by Echo.lu – Content non-binding and subject to change.

To advertise your event (taking place in the capital) in our calendar, register all the information on Echo.lu and display it on our agenda.