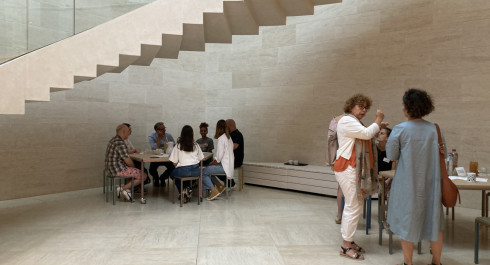 21.06.2023
Café des Langues
With the members of RYSE (Refugee Youth Support & Empowerment), the museum regularly organises Language Cafés within the framework of the ongoing exhibitions at Mudam. The purpose of these gatherings is to discuss contemporary art and culture, as well as practice the four main languages spoken in Luxembourg.
RYSE's mission is to encourage the development of young refugees and to accompany them in the discovery of their potential while prioritising their independence and integration into active life.
Booking:
t +352 453785 - 531
Mudam Luxembourg – Musée d'Art Moderne Grand-Duc Jean
3 Park Dräi Eechelen
L-1499 LUXEMBOURG

Wednesday 21.06.2023
18H00 - 20H00
Content provided by Echo.lu – Content non-binding and subject to change.

To advertise your event (taking place in the capital) in our calendar, register all the information on Echo.lu and display it on our agenda.