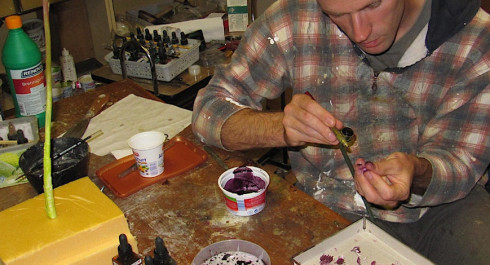 19.08.2023
Smart Plants - aus der Trickkiste der Orchideen
Smart Plants - aus der Trickkiste der Orchideen
Die Evolution der Orchideen hat viele einzigartige Spezialisierungen hervorgebracht. Dazu gehören beispielsweise ihre enge Gemeinschaft mit Pilzen, die Anpassungen ihrer Laubblätter, ihre geradezu bizarren Blüten und die Ausbildung ganz besonderer Wurzeln und Samen. Der Orchideen-Modelleur dieser Ausstellung Sebastian Brandt gibt einen unterhaltsamen Einblick in diese verblüffenden Strategien der Orchideen. Anhand verschiedener Medien und kleiner interaktiver Experimente nähern wir uns in diesem Workshop den faszinierenden Geheimnissen der Orchideen an und versuchen uns ihren verborgenen Überlebenstricks ihrer einnehmenden Ästhetik anzunähern. Weiterhin gibt Sebastian Brandt einen praktischen Einblick in seine Arbeit der Herstellung weltweit einzigartiger und international preisgekrönter botanischer Modelle.
mit Sebastian Brandt, www.reco-brandt.com
Sprache. DE
maximum: 15 Teilnehmer
*5€ Entrée 'natur musée'
Saturday 19.08.2023
15H00 - 16H30
| | |
| --- | --- |
| nur der Eintritt ins Museum muss gezahlt werden | 0 € |
Content provided by Echo.lu – Content non-binding and subject to change.

To advertise your event (taking place in the capital) in our calendar, register all the information on Echo.lu and display it on our agenda.