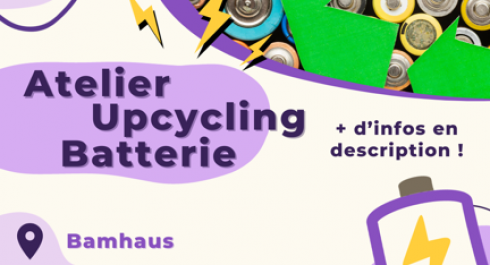 02.12.2023
Atelier Batterie recyclée
Atelier Batterie recyclée
🛠️ [WORKSHOP] 🛠️
⚡ L'électrique prend de plus en plus de place dans notre société, l'utilisation de batterie devient plus fréquente avec une consommation de matière exponentielle en conséquence : c'est ce qui nous mène à cet atelier sur l'upcycling des batteries !
📝 Au programme :
– Dans un premier temps : présentation des fondamentaux sur l'électricité et l'électronique liée aux batteries.
-Ensuite : les participant·e·s pourront mettre en place leur propre "Powerbank" sur base des cellules Li-ion 18650 usagées encore fonctionnelles à partir d'un module (neuf) que nous fournissons.
🔋 Nous utiliserons le modèle standard (modèle 18/650mm) que l'on retrouve dans les batteries des ordinateurs portables, des e-bikes, des trottinettes électriques etc. Les cellules usagées ne sont pas toutes fonctionnelles et n'ont pas toutes une capacité encore importante.
🔧 Il n'y a pas besoin de compétences particulières pour participer !
♻️ Si vous avez de vieilles batteries Li-ion 18650 provenant d'un ordinateur portable, d'un scooter, d'un vélo électrique ou autre, n'hésitez pas à les apporter lors de l'atelier !
💶 Coût : 13 euros sans les cellules usagées, 20 euros avec les cellules usagées fournies
👉 Pour s'inscrire ou avoir plus d'informations : [email protected]
#climatejustice #socialjustice #fightforclimate #wearetransition #climatechange #climatecrisis
Saturday 02.12.2023
10H00 - 12H00
| | |
| --- | --- |
| Atelier avec boîtier pour batterie (prix coûtant) | 13 € |
| Atelier avec boîtier + batteries usagées mais encore en état (prix coûtant) | 20 € |
Content provided by Echo.lu – Content non-binding and subject to change.

To advertise your event (taking place in the capital) in our calendar, register all the information on Echo.lu and display it on our agenda.