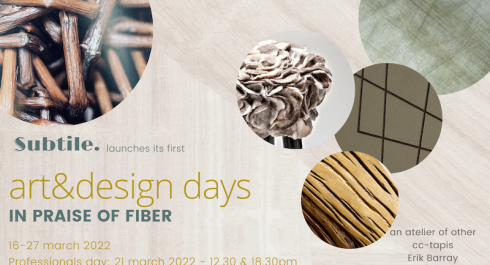 In Praise of Fiber, art&design days
From 16/3 to 27/3/2022 the art&design days will be held at Subtile, the first event dedicated to the combination of art and slow design in Luxembourg.
The craftsmen-designers' professions, these masters who respect noble materials, i.e natural materials, are rarely under the spotlight. They sublimate the material to offer us unique decorative and functional handmade pieces.
This first edition will praise the fiber, whether it is vegetable, animal or recycled. Six designers, including three Europeans and three Brazilians, will occupy Subtile Gallery with their installations and will welcome professionals on Spring day (21 March) as an ode to the nature's revival.
This will be followed on 31 March by an exhibition by a couple of artists, KIKI TONNERRE, who work with four hands, playing with geometric lines, shapes and colours on stretched strips of fabric or Japanese paper.
We are looking forward to welcoming you in the presence of the designers on 21/3 for 2 talks about their love for nature that they shape for our interiors,
Location: Subtile, 21A avenue Gaston Diderich 1420 Luxembourg
Sharing dates:
- 21 March at 12.30 pm and at 6.30 pm (professionals and journalists)
- Exhibition open to the public: 16 March to 27 March 2022
- Afterwork event around Brazil on Friday 25 March from 5.30 pm
-
Artist-designers: an atelier of other (fiberglass), Éric Barray (wicker), Ines Schertel (wool), Dedé Lins (leather), Hugo França (wood), cc-tapis (wool) + KIKI Tonnerre (from 31/3)
Content provided by Echo.lu – Content non-binding and subject to change.

To advertise your event (taking place in the capital) in our calendar, register all the information on Echo.lu and display it on our agenda.