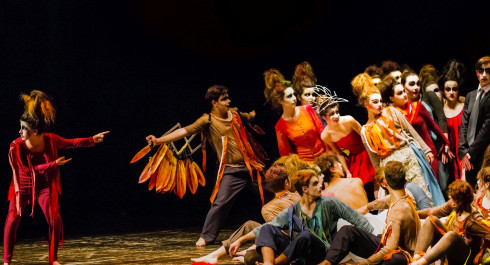 ARISTOPHANIKA: Birds & Lysistrata
Directed by Raffaella D'Angelo
With: Soraya Bachiller, Alexandra da Silva, Josue Dovoedo, Ioana Dragnea,
Francesca Epifania, Natasha Ewert, Giacomo Frosi, Nick Fynn, Marcelo Gaston,
Sue Levy, Irina Nikitina, Kateryna Okrimenko, Roberta Parmini, Jarek Radomyski,
Amar Radoncic, Monica Tuduce.
Artemysia Theatre is proud to announce its latest production: a double bill of Aristophanes' Birds and Lysistrata.
"Birds", a comedic play originally performed in ancient Athens (414 B.C.) tells the story of two Athenians who, fed up with the corruption and bureaucracy of their city, seek refuge in the utopian birds' city of Numbikukulia. "Lysistrata", another comedic play, follows the women of Athens as they withhold sex from their husbands in order to end the Peloponnesian War.
"We are excited to bring these two classic plays to the stage and present them in a fresh and relevant way," said Raffaella D'Angelo, Artistic Director of the Multicultural Theatre Company. "Through our production of "Birds" and "Lysistrata", we hope to showcase the cultural diversity of our community and spark meaningful conversations about the issues that continue to affect us today."
11 June, 2023, 17.30 h
Theatre Sang a Klang, 1 – rue de Trois Glands
Tickets: 10 euro
Language: English
Info & Reservations: [email protected], 661448824
Sunday 11.06.2023
17H30 - 18H30
Content provided by Echo.lu – Content non-binding and subject to change.

To advertise your event (taking place in the capital) in our calendar, register all the information on Echo.lu and display it on our agenda.