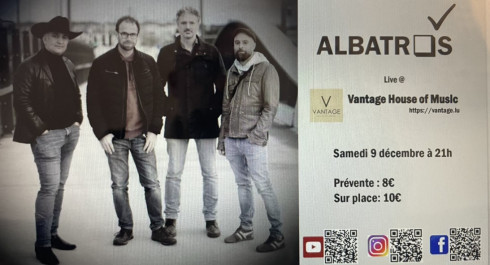 09.12.2023
ALBATROS - Live at Vantage
ALBATROS - Live at Vantage
ALBATROS in Live at Vantage :
ALBATROS ce sont des textes qui planent dans la tempête musicale.
C'est un courant ascendant ROCK avec des paroles de tourmente onirique qui soufflent les rêves brisés sur les écueils de la vie la marée basse et l'aube qui pointe peut-être au loin.
Ce sont quatre expats qui font du Rock francais pour vous envoler un peu vous inviter a prendre le large...
instagram : albatros.band.music
FB : Albatros Music
Youtube : youtube.com/channel/UC7oyaOTKCue7wSagYWxCwSg
Tickets :
prévente : 8 €
Sur place : 10 €
Saturday 09.12.2023
21H00 - 23H45
Content provided by Echo.lu – Content non-binding and subject to change.

To advertise your event (taking place in the capital) in our calendar, register all the information on Echo.lu and display it on our agenda.