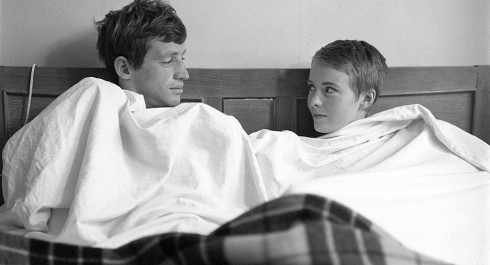 À bout de souffle (Rétrospective Jean-Luc Godard)
À bout de souffle (Rétrospective Jean-Luc Godard)
À bout de souffle
Breathless France 1959 | version originale avec sous-titres anglais | 90' | De : Jean-Luc Godard | Avec : Jean-Paul Belmondo, Jean Seberg, Jean-Pierre Melville
► Prix de la Meilleure mise en scène, Berlinale 1960
Michel Poiccard, a small-time thief steals a car and impulsively murders a motorcycle policeman. Wanted by the authorities, he reunites with Patricia, a hip American journalism student, and attempts to persuade her to run away with him to Italy.
« Il était une fois un cinéma classique, un cinéma de divertissement, de capture mondaine des foules, un cinéma assis sur les règles et sa machinerie académique, qui se voit percuté par le bolide nommé À bout de souffle. Un premier long-métrage qui troue l'année 1960 et vrille les têtes, les sens des spectateurs. La Nouvelle Vague souffle dans le sens de l'inconnu. En prise directe sur l'esprit de l'époque, contestant l'industrie du septième art, elle parie sur une créativité affranchie des conventions et sur la proposition d'une nouvelle fabrique de l'image. » (Dick Tomasovic, La Septième Obsession)
« Avec ses ruptures de ton, ses citations, ses provocations, avec ses décors naturels, avec sa caméra portée à l'épaule, avec ses dialogues plus ou moins improvisés, ce film constitue une véritable révolution esthétique qui ouvre la porte à un cinéma en totale liberté. » (Guide des films, Éd. Laffont)
« Influential. Innovative. Incredible. » (Little White Lies)
Content provided by Echo.lu – Content non-binding and subject to change.

To advertise your event (taking place in the capital) in our calendar, register all the information on Echo.lu and display it on our agenda.