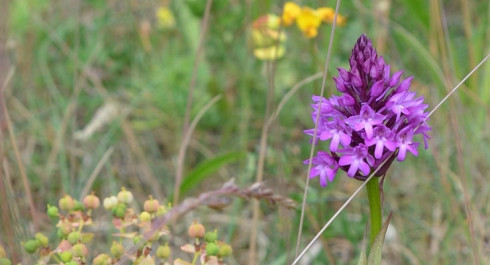 Orchidées à l'Arboretum du Kirchberg
Orchidées à l'Arboretum du Kirchberg
Promenade au parc Klosegrënnchen, avec ses pelouses maigres, refuge pour de nombreuses plantes rares et ses collections de pins et autres.
Les pelouses sablonneuses maigres du parc paysager Klosegrënnchen sont un refuge pour toute une série de plantes rares. Il y a quelques années les premières orchidées sont apparues et sont en train de se répandre. Accompagnez le biologiste Thierry Helminger pour une promenade botanique à travers ce paysage de dunes très particulier.
Time
8 juin 2022 18.00-19.30
Location(s)
Parc Klosegrënnchen boulevard Pierre Werner entrée du parc, Rond-point Serra (arrêt le plus proche: Kirchberg, Luxexpo) L-1385 Luxembourg
Project organizer
Musée National d'Histoire naturelle
25 Rue Münster
L- 2160 Luxembourg Luxembourg
Contact
Michaely, Patrick
thelminger@mnhn.lu
+352 46 22 33 406
Content provided by Echo.lu – Content non-binding and subject to change.

To advertise your event (taking place in the capital) in our calendar, register all the information on Echo.lu and display it on our agenda.