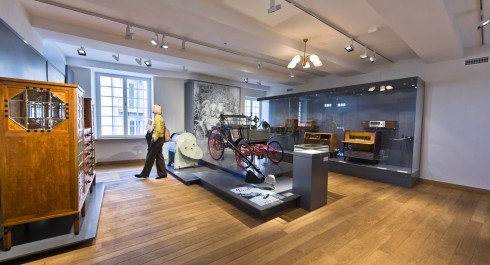 19.03.2015
DE MANSFELD AU DESIGN / VON MANSFELD ZUM DESIGN / FROM MANSFELD TO DESIGN
DE MANSFELD AU DESIGN / VON MANSFELD ZUM DESIGN / FROM MANSFELD TO DESIGN
'From Mansfeld to Design (1500-2014). The living cultures and the applied arts in
Luxembourg, an original way?' is the new permanent exhibition of the department for the
Decorative and Popular Arts. It invites visitors to discover the evolution of lifestyles in
Luxembourg from the Renaissance to the 21st century.

Occupying several rooms of the magnificent old houses across the street, this permanent exhibition has been completely rethought and modernised. The diversity of the approximately 200 exhibits (furniture, clocks, china, silverware, the architecture of the buildings itself, etc.) evoke the complex relationship between the originality of Luxembourgian production and influences from abroad. The overall discourse of the new exhibition is based on the local-international dichotomy, thus honouring the quality of the last centuries' craftsmanship in the Grand-Duchy's territory.

The exhibition develops over some 20 rooms that are distributed over two floors. It is divided into two parts, the first one dedicated to the display of ways of living from the 16th to the 18th century in the light of the social tiering of interiors divided into noble, middle class and working class. The second half is organised chronologically and displays the succession of the different styles. It consists mainly of objects produced by Luxembourg's artistic craftsmen of the 19th and 20th century. It is the first time that such an exhibition dedicated to the decorative arts until our time is presented in Luxembourg.

The most recent exhibit was made in 2006. Visitors will also recognize exhibits from before the renovation works. Those were restored and now show their best side. Great classics, such as the Luxembourgish walnut cupboards of the 18th century, or the first car ever bought in Luxembourg, are now surrounded by magnificent silverware of the 18th century and furniture of the 1950s, which visitors will see for the first time.

The exhibition was created by Jean-Luc Mousset, honorary curator of the Department for Decorative and Popular Art of the MNHA, and its design was developed by interior architect Regina Hauber. The exhibition equally includes in situ architectonic elements, carefully restored by the Fonds de Rénovation de la Vieille Ville.
From the 18th century trammel to the modulated design kitchen, from the interior of the 19th century middle-class to the Art Deco style of the 1930s, we invite you to (re)discover the objects that surround us under a completely new light.

Content provided by Events in Luxembourg – Content non-binding and subject to change.

To advertise your event (taking place in the capital) in our calendar, register all the information on Events in Luxembourg and display it on our agenda.