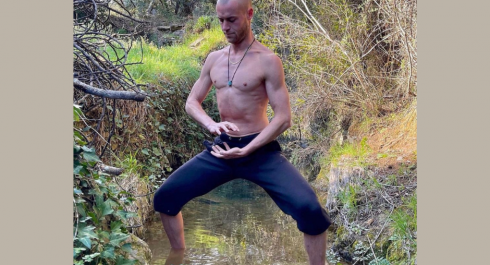 10.05.2023
5 Elemente Qi Gong
Das aus China stammende 5 Elemente Qigong ist eine Trainingsform zur Erlernung der Kontrolle und Steuerung der Lebensenergie (Qi). Des Weiteren geht es darum, Körper, Geist und Atmung in Einklang zu bringen. Für jedes der 5 Elemente (welche auch in der traditionellen chinesischen Medizin benutzt werden) gibt es eine spezifische Tierform, die durch Bewegungsformen imitiert wird. Dabei werden bestimmte Muskeln, Organe und Meridiane (Energielinien) stimuliert, um einen allgemeinen positiven Gesundheitszustand zu garantieren. Des Weiteren widmen wir uns der Steuerung und Manipulation der Atmung, um uns abschließend in der Meditation auf die Kontrolle der Gedanken und Transformation der Emotionen zu konzentrieren, wobei wir negative Emotionen/Gedanken in positive Emotionen/Gedanken umwandeln.
Mirko Leogrande unterrichtet Yoga, Qi Gong und Natural Insticts Movement. Er beschäftigt sich außerdem generell mit dem Körper und unseren Ernährungsweisen. Lange Zeit als Fitness-Coach unterwegs, ist Mirko aber nun der chinesischen Lebenspflege verschrieben. Wir freuen uns auf die Workshops mit ihm, und hoffen, dass Sie beim Qi Gong oder beim Natural Insticts Movements ihre innere Stärke ausbauen können!
- - - - - - - - - - - - - - - - - - -
Termine: Mittwochs, 10/05–12/07 (außer in den Schulferien) | 17.30–18.45 (9 Sitzungen)
Anmeldeschluss: 12/4/2023
Info und Anmeldung: [email protected]
Preis: 180 €/9 Sitzungen
Mehr über Mirko Leogrande: https://nim-7elements.com/
From Wednesday 10.05.2023 to Wednesday 12.07.2023
19H00 - 19H00
| | |
| --- | --- |
| Qi Gong / 9 Séancen | 180 € |
Content provided by Echo.lu – Content non-binding and subject to change.

To advertise your event (taking place in the capital) in our calendar, register all the information on Echo.lu and display it on our agenda.