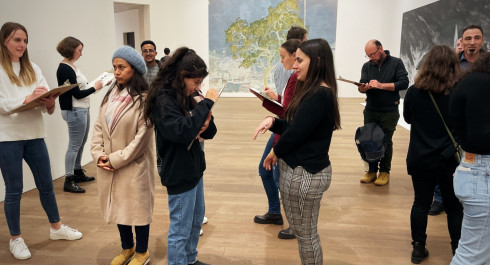 01.07.2023
2x2 Dialogues : Our coup de cœur
2x2 Dialogues : Our coup de cœur
To celebrate our fifth collaboration, we are offering a special edition of the 2x2 Dialogues: Luxembourg residents and people with a refugee background will work in pairs and devote themselves to their favorite work exhibited in Mudam. Together, we will exchange our points of view in the form of a sketch board. The results will then be printed in poster format with the riso technique.
In collaboration with Mir wëllen Iech ons Heemecht weisen asbl
In English
Booking required:
Mudam Luxembourg – Musée d'Art Moderne Grand-Duc Jean
3 Park Dräi Eechelen
L-1499 LUXEMBOURG

Saturday 01.07.2023
10H00 - 16H00
Content provided by Echo.lu – Content non-binding and subject to change.

To advertise your event (taking place in the capital) in our calendar, register all the information on Echo.lu and display it on our agenda.