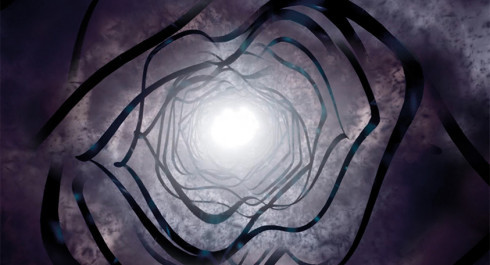 CeCiL's Box by Mary-Audrey Ramirez
CeCiL's Box by Mary-Audrey Ramirez
Avec son projet CeCiL's Box, le Cercle Cité accueille des créations dans une de ses vitrines de la rue du Curé ; ce projet a pour objectif de présenter au public des interventions variées et originales, c'est également une manière de soutenir la création locale en offrant une visibilité « sur rue » à des artistes invités. Dictées par l'espace de la vitrine, ces interventions sont visibles 7/7j, de jour comme de nuit.
Avec ses créatures en matières synthétiques, Mary-Audrey Ramirez crée des univers iconographiques allégoriques aussi effrayants qu'absurdement fascinants. Ses mises en scène sous forme d'installations sont assiégées d'animaux fantastiques ou de créatures hybrides issues d'univers numériques ou cinématographiques. Au centre de l'installation « graveyard escape » pour l'espace CeCiL´s Box, figure une boucle générée par ordinateur de l'artiste Pirate Sheep (Marta Stražičić). Un vortex hypnotisant entraîne dans son tourbillon aussi bien les créatures extraterrestres scintillantes qui en surgissent que les observateur.rice.s. Let's get lost!



En collaboration avec Pirate Sheep.
Le projet initié par le commissaire d'exposition luxembourgeois Gilles Neiens fait partie de l'exposition « Club Quarantina ». Pour plus d'informations : www.accce.de
En remplacement de l'inauguration habituelle, nous vous proposons de nous retrouver devant la CeCiL's Box le jeudi 06 mai à 12:00, pour un échange avec l'artiste et le commissaire.
Partagez vos images sur Instagram et Facebook ! #cecilsbox

Content provided by Events in Luxembourg – Content non-binding and subject to change.

To advertise your event (taking place in the capital) in our calendar, register all the information on Events in Luxembourg and display it on our agenda.