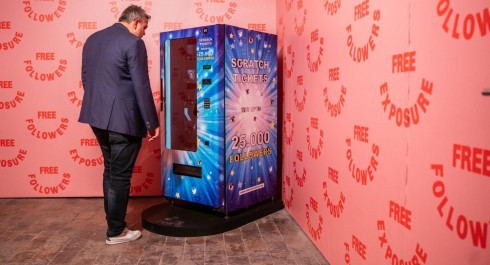 Get Popular Vending Machine
Get Popular Vending Machine
Get Popular Vending Machine is an installation made of a vending machine that sells scratch-cards. The winners can take home up to 25,000 fake followers for their Instagram or Twitter account. A ticket costs 1€. Who will try their luck?

Genres: Cube & Installation
Location: Buvette
Additional information: During Multiplica: Fri 26.02.21 >18:00-22:00 Sat 27.02.21 >14:00-22:00 Sun 28.02.21 >11:00-18:00 Check out the full programme of MultiplicaFrom 01.03.21: visible during the Buvette's opening hoursSee also: Video installation / loop 24h Sunrise/Sunset Our interview with Dries Depoorter
Price: Free entry

Content provided by Events in Luxembourg – Content non-binding and subject to change.

To advertise your event (taking place in the capital) in our calendar, register all the information on Events in Luxembourg and display it on our agenda.