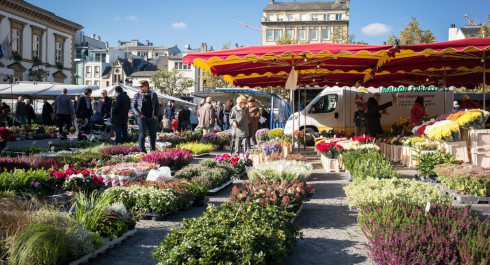 En raison des travaux de réaménagement de la place Guillaume II, le Stater Maart se tient désormais à la place Emile Hamilius et ses alentours.

Le marché, avec ses quelque 40 stands, y accueille le public les mercredis et samedis de 7h30 à 14h00, et propose aux visiteurs un vaste choix de produits : produits régionaux et saisonniers, produits labellisés bio, fruits et légumes, produits de boulangerie et de pâtisserie, poissons, viandes, poulets rôtis, pâtes, fromages, fleurs et plantes...
Un marché facilement accessible
La place Emile Hamilius étant facilement accessible à pied, à vélo, en transports en commun et en voiture, le marché profitera ainsi d'un emplacement stratégique au cœur de la ville :
pôle d'échange « Hamilius » (tram / bus)
plusieurs parkings, tels que « Royal-Hamilius », « Knuedler » et « Monterey », disposant de plus de 1100 emplacements, situés à proximité immédiate du site
plusieurs stations vel'OH! (Charly's Gare, Amélie, Gëlle Fra, Monterey…) et des râteliers à vélos à proximité

Content provided by Events in Luxembourg – Content non-binding and subject to change.

To advertise your event (taking place in the capital) in our calendar, register all the information on Events in Luxembourg and display it on our agenda.